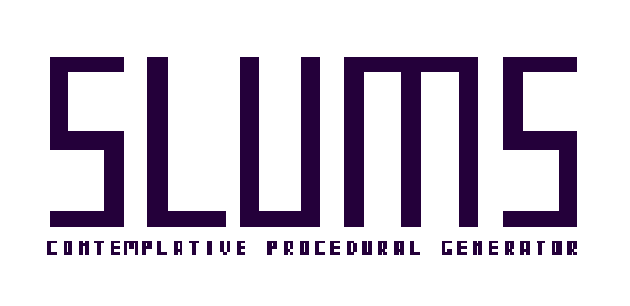 SLUMS
THIS IS NOT A GAME
Nor a tool, or a video, it's just your computer creating things from 1 and 0, it's pure mathematics in action at the service of the art, isn't it wonderful ?

Brewed with blood love for the PROCJAM 2022 (make something that make something). SLUMS can generate a fully procedural dystopian/cyberpunk/space opera city piece by piece in REAL TIME.

1.1 UPDATE
CONTROLS
Press SPACE to regen the SLUMS
LEFT CLICK or T to enable/disable Time speed x 6
RIGHT CLICK anywhere or press C to take a Capture and save it as clean .png automatically named after the city
MOUSE WHEEL to change the color of the scene (100 colors)
Press S to enable/disable the Screensaver mode, auto regenerating a SLUMS every 180 seconds
Press D to add 30 seconDs to the screensaver timer
Press 1, 2, 3 to change the color grading filter
Press M to Mute/unMute the audio
TRIVIA
There are +1422 hand drawn sprites.
There are 136 307 520 possible places (names) combinaisons, if you take 1 second after an other to visit a place you will need more than 4 years to view all of them.
I was very inspired by an old Maxis game : SimTower and Yoot tower, his spiritual successor, you should play them if you like building/management game, I did'nt have courage to make a real game like those.